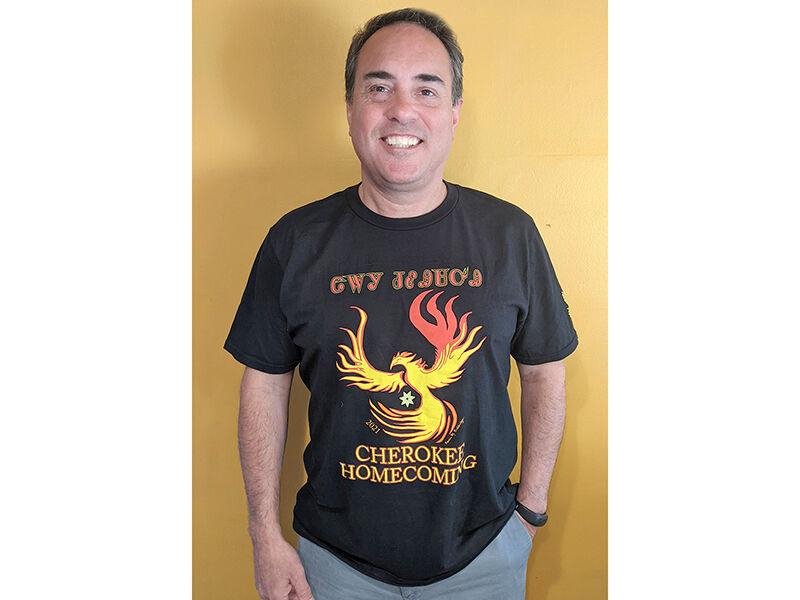 TAHLEQUAH – A graphic artist's vivid depiction of a red and yellow phoenix is featured on the Cherokee Phoenix's 2021 Homecoming T-shirt.
Kevin Baldridge, 54, a Cherokee Nation citizen from York, Nebraska, submitted this year's winning design.
"I'm extremely honored to do this," he said. "I've been wanting to do this for a couple of years. So I sat down and started drawing some things. I looked at what the previous winners have done. I wanted to do something maybe a little simpler, more organic."
Baldridge is a graphic designer by trade.
"I've been doing it for about 30 years now," he said. "The artistry of the Cherokee Nation must have gotten in my blood."
Baldridge's T-shirt design features a phoenix and seven-pointed star. Above the design, in Cherokee syllabary, are the words "Cherokee Phoenix." Below the image, in English, are the words "CHEROKEE HOMECOMING," as well as "2021" and Baldridge's signature.
"I wanted to give it energy and just make it alive like the Cherokee Nation," he said. "We will always be alive. We return from the ashes, and you just can't keep us down."
In 2016, the Cherokee Phoenix commissioned Cherokee artist Buffalo Gouge to design its initial T-shirt, one that differed from the tribe's Cherokee National Holiday shirts. In 2017, the Cherokee Phoenix sought entries from Cherokee artists and chose Daniel HorseChief's concept. In 2018, Nathalie Standingcloud's design was chosen, and in 2019, Mallory Taylor's submission was selected. Last year's design was created by Cherokee artist Codey Poindexter.
The shirts are black and short-sleeved with adult sizes ranging from small to 3XL. The Cherokee Phoenix is also offering a youth medium size. All shirts are priced at $21.20, tax included. To order, call 918-207-4975, email billy-frogg@cherokee.org or stop by the Cherokee Phoenix office in the Annex Building (Old Motel) on the Tribal Complex.
Staff members will also have shirts available at booths during various events, including the Cherokee National Holiday. For information about locations, keep up with the Cherokee Phoenix on social media.